June 10, 2018 – Orientation for Instructors
Art and Science in the Woods starts tomorrow (Monday). It has been quite some time since I taught the insect classes. I am looking forward to helping others better understand our natural world and the massive role insects play in it. Before the instructor orientation this afternoon, I visited the pipeline cut where I observed some large Formica ant nests over 15 years ago. They are still present. These nests are almost 2 feet high.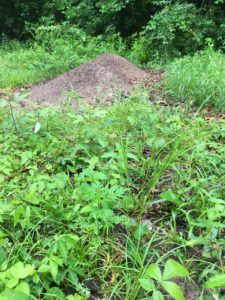 I took a leisurely stroll throughout the various habitats near the Sun Foundation this afternoon. There was a fair amount of rain today. Hopefully, this will bring out more insects as the weather turns warmer tomorrow.
We had a communal meal this evening. Lots of great food. I also had the distinct pleasure of meeting the individuals who will be working with me during the week (Allison, Olivia, and Mary). This week allows me to "be a kid again" and experience the world with an emphasis on insects. After all, they are the little things which run our world.
I was also quite impressed to see that bees are being used to pollinate the crops on this farm.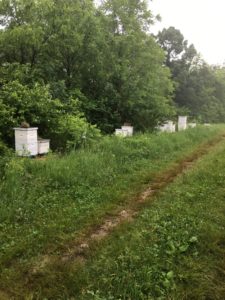 I am already looking forward to meeting the students tomorrow morning. Going to be a fun week.